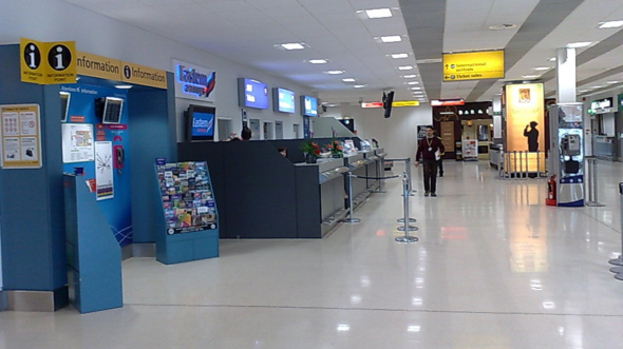 As I write this, I can look out the window and see a clear blue sky and the sun. No clouds and the only things in the air are birds. And you know what? It's good.
No planes, no jet trails in the upper atmosphere, just silica spewed out from a minor Icelandic volcano, particles too small to see from where I am. OK, so I feel sorry for friends of mine who were due to fly to New York yesterday on honeymoon and another friend who heading to a conference in South Africa, but they are being fairly calm about the delay.
Unlike the drunken stag party member at Glasgow Airport who told TV cameras "I hate Iceland" yesterday. Fair enough, it's alright to feel angry at Iceland for losing cash that a lot of local authorities banked with them, but Bjork and her country folk can't be held responsible for a perfectly natural phenomenon that has been going on for tens of thousands of years.
It's the same with the recent earthquakes in Haiti and Chile, the latest earthquake in China and even the lack of snow at the Winter Olympics in Canada – its nature and we can't stop it. The only thing we can do is learn to live with it.
We get outraged when we see human suffering caused by natural disasters, but more often it's things like travel plans being disrupted that really get us angry. Never mind the thousands left homeless by the earthquake in Far-Away-Land, the wrong snow has stopped me getting the train into town.
Perhaps the empty airports we are seeing on the TV are timely reminder about what we actually are in the big scheme of things. You know, the universe and all that. We think we're so sophisticated and clever enough to master nature, but we have enough trouble predicting when it will rain, so any chance of keeping nature in check is... well, a bit hopeful.
I'm not saying we shouldn't try to understand the huge lump of rock we cling onto as it hurtles through space. I love science. I love the fact that we want to find out how it all works and fits together. But there are some things that we just need to learn to accept and perhaps be wary of.
We are very used to having answers for everything. Some people use science, others religion, but most people look to find some meaning, or some explanation for things. Volcanic eruptions used to be angry warnings from the gods. Some today will be saying that Mother Earth is having her revenge on mankind for disrupting the "balance" of the world.
Me? I think it's probably a magma river that has been flowing in a narrowed rock channel a few miles down, and the resultant pressure has caused it to blow. Not very exciting really, but there you go.
While you sit fuming about not jetting off for the next few days, with no one to blame for a change, you may think the world is unjust. It's not. It just is.
David Coyle is the winner of stv.tv's 'Write Factor' competition. His views do not reflect those of STV plc.